Atlantic Bay Resort - Setting the standards in African hospitality.
The Atlantic Bay Resort (formerly legacy Tribe) is on the Atlantic coast, a beautiful sandy beach that will make you feel truly at peace and at home. The resort gives a breathtaking view of the Tema harbor to the west and the Prampram fishing harbor to the east
Prampram is the capital of Ningo-Prampram District, 15 minutes' drive from the port city of Tema and 45 minutes from Accra the national capital. The fishing community of Prampram is a historic town, in the Greater Accra Region, and is home to the ruins of Fort Vernon. A small English trading fort, built in 1742, The town is set to become an international hub as the government has acquired over 60 acres of land to construct an ultra-modern Airport Prampram has clean sandy beaches dotted with several pleasure spots for tourist and holiday makers.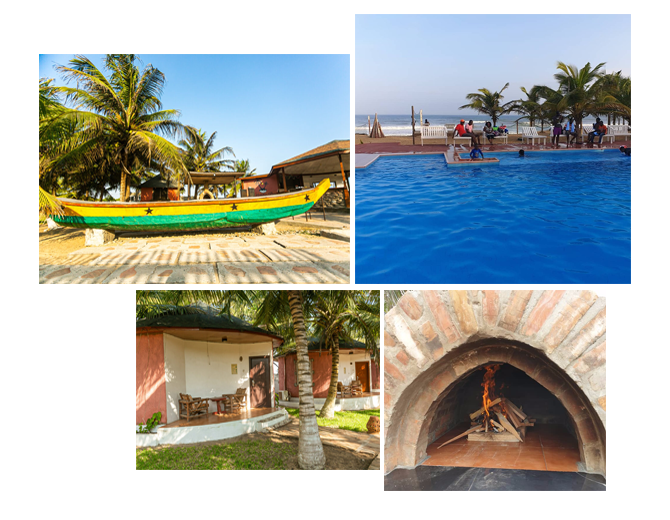 Facilities
Welcoming services, lasting memories Catering , Accomodation , Pagodas , Baat House , Open beach
Accomodation
A celebration of Ghana's cultural diversity and natural environmental Ultimate restaurant showcases ingredient-led, ....
Events Space
Atlantic Bay Resort Is a premium destination for both corporate and private events. We have well equipped conference facility with up to 200 seating capacity. Our lush grounds can accommodate both small and large groups for custom events like weddings, birthdays, pool parties, musical concerts ...
Pool And Beach
If you love active sports, there is a beautiful swimming pool for adults and children. The use of the pool is at a fee. For those with a taste of adventure, the Atlantic Ocean awaits you.
"Our dedication is to set the standards of African Hospitality. We give you the ideal African experience" - Manager
Experience Tradition & Elegance
We can help you fit your stay and experience within your allotted budget.
Call for all your​ Reservations