Beach | Bed | Food | Events
Atlantic Bay Resort
Tradition & Elegance
An Experience You Won't Forget
Luxury & Class
Our Amernities Are Top Notch
Welcome to Atlantic Bay Resort
We are dedicated to setting the standards in African hospitality. Located on the Atlantic coast, a beautiful sandy beach that will make you feel truly at peace and at home. The resort gives a breathtaking view of the Tema harbor to the west and the Prampram fishing harbor to the east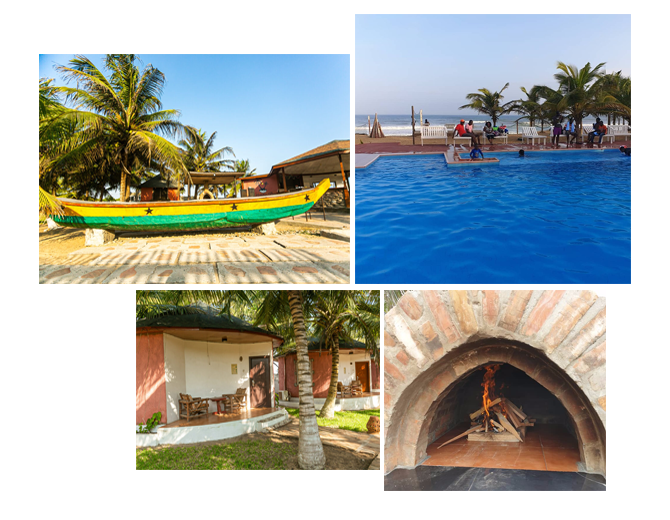 Amenities & Facilities
Welcoming services, lasting memories Catering , Accomodation , Pagodas , Baat House , Open beach
Accomodation
A celebration of Ghana's cultural diversity and natural environmental Ultimate restaurant showcases ingredient-led, ....
Events Space
Atlantic Bay Resort Is a premium destination for both corporate and private events. We have well equipped conference facility with up to 200 seating capacity. Our lush grounds can accommodate both small and large groups for custom events like weddings, birthdays, pool parties, musical concerts ...
Pool And Beach
If you love active sports, there is a beautiful swimming pool for adults and children. The use of the pool is at a fee. For those with a taste of adventure, the Atlantic Ocean awaits you.
Live Band with rich wine
Friday Happy Hour!!
Pass by every Fridays lets start the weekend in style. Dance to the tune of captivating african live music and step it up with rich local brewed wine and khebab.
What Our Guests Say
We take pride in serving our guests with the best experience. Read what they say.
This place could be great but has one massive problem: the staff. If I was the owner I would fire every single staff member. There was nobody at the gate, the reception girls were very unprofessional and hadn't prepared the room (we were the only guests lodging). We had to ask for towels twice, as they were not provided. Arriving at the pool there were 3 staff members sleeping on the beds (one of them the supervisor!!) and they didn't move until we asked if we could please use those chairs. The so-called supervisor then stayed and stared us down for the entire time. When there are guests, you leave the pool area, let alone sleep there! When we went for dinner later he was still sleeping there. The bar staff has zero concept of hospitality, playing Ludo the entire night and letting us walk to them every time we needed something. In the night we got very sick from the food too. For 600-1200ghs per night this is an absolute disgrace! One of the managers came to take some feedback, which I appreciated. I hope they do something about it cause the place has too much potential to be wasted by bad staff.
Nice experience
أم الشبلين الأشبال
2023-01-03
جميل جدا انصحكم فيه
Had lunch and hung out. Staff are a little slow. Definitely not attentive. You have to call them each time. They don't check on you. The choices of food is extremely sparse. The Cheff does try to please with what he has and he has shown flexibility, which was welcomed. Nice beach area and pool
Theophilus Zutah
2022-11-22
Nice beach front and an in house swimming pool. Great place for a watching the ships dock at the Tema Harbour.
FAQS
Most frequent questions and answers
Experience Tradition & Elegance
We can help you fit your stay and experience within your allotted budget.
Call for all your​ Reservations